Coordinates
An intricate, active and brilliantly colored poster. I began with light samples
The image on the right is a "light sample" I made this by using a slow shutter speed while photographing lights outside at night. By deliberately moving the camera, a wide variety of designs of light can be made. I find that a lot of interesting effects appear from simple doodling and often will expand into something like the poster which resulted from my efforts.
The design evolved as I worked on it.
As the form and concept developed I added different shapes and used different effects. I added 4 of my "Fire People" characters to populate the scene.
The idea inspiring the design is in the title "Coordinates".
Coordinates are the intersection of consciousness and data.
This poster will attract a lot of attention and comments on a wall near you.
Enjoy.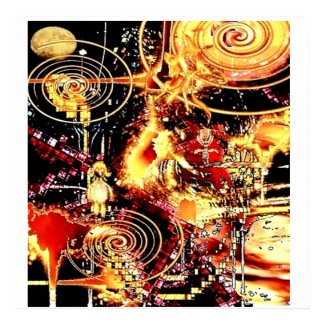 Browse more Fantasy Posters at
Zazzle
Coordinates
a video with the rest of the images and light samples.